बांधवगढ़ नेशनल पार्क सफारी बुकिंग
About Bandhavgarh
Bandhavgarh Jungle Safari (बांधवगढ़ जंगल सफारी)– Bandhavgarh National Park, India's most visited national park, is located in the Umaria district of Madhya Pradesh's Vindhya Hills. Declared a national park in 1968 the Bandhavgarh National Park is spread across an area of 105 km².
The name Bandhavgarh has been derived from the most prominent hillock in the area of Umaria. The area of Bandhavgarh is being flourished with a large biodiversity, the place is also famed for gripping the highest density of tiger population in India. Similarly, the park is home to the biggest breeding population of leopards and a variety of deer species.
The park has seen a significant growth in the number of tiger species over the years, which is why tiger excursions are so popular in the area, attracting a big number of people.
Bandhavgarh National Park has a diverse environment that ranges from towering grasslands to dense Sal forest, making it an ideal habitat for a wide range of animals and birds. Because of its varied geography, the Bandhavgarh national park offers several opportunities to witness the beautiful Indian tiger as well as some seldom-seen creatures such as leopards and sloth bears. Due to high wildlife sightings, it is becoming popular among tourists visiting India.
Area: 450 sq. km (Core area: 105 sq. km)
Altitude: 800 m above sea level
State: Madhya Pradesh
Location: Vindhyan Mountain ranges of central India
Temperature range: 42°C to 2°C
Annual Rainfall: 1200mm
Bandhavgarh Jungle Safari (जंगल सफारी बांधवगढ़)
Jungle Safari at Bandhavgarh National Park is a delight for adventure lovers and wildlife photographers. In fact, these Jungle safari tours have added excitement and fun to the journey. The finest way to see the wildlife and animals of Bandhavgarh National Park is with a 04 WD Open Jeep Safari.
People who go on safari in Bandhavgarh expect to see untamed nature and pristine sceneries, and they are not disappointed. The Bandhavgarh National Park comprises mixed vegetation ranging from towering grasslands to dense Sal forest, making it the ideal home for a variety of animals and birds.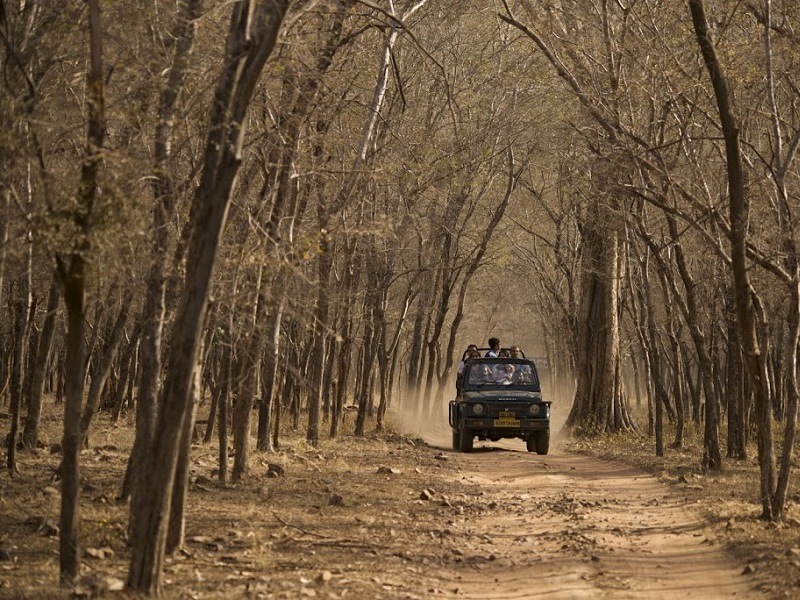 Most visitors head for the Tala & Magadhi zones of the National Park, which has some of the highest concentrations of wildlife in Bandhavgarh. The dry season, from October to May, is the greatest time to visit. At Bandhavgarh, Jeep Safaris can be done twice a day.
The Morning Shift starts early at the time of Sunrise up to 05 hrs & the afternoon one starts at 03 PM up to sunset. Six people are permitted in each Open Jeep, together with one naturalist and one driver. Each shift, only a limited number of Jeeps are authorized to enter the National Park. This was done to minimize congestion within the National Park. As a result, it is best to plan safari rides well in advance to prevent disappointment.
Where is Bandhavgarh national park situated? (

बांधवगढ़ राष्ट्रीय उद्यान कहाँ स्थित है?)
Bandhavgarh is located in Madhya Pradesh's Vindhya highlands. Bandhavgarh has a core area of 105 square kilometers and a buffer region of around 400 square kilometers. The landscape fluctuates between high peaks, undulating terrain, woodland, and open meadows. Bandhavgarh is well-known for its Royal Bengal Tiger population, which has the greatest density of any Tiger population in India.
Bandhavgarh National Park is well-connected to the nearby town & cities like Jabalpur, Satna, Umaria, Khajuraho, etc. Bandhavgarh National Park's distance and approximate travel time from several neighboring cities are shown below:
The nearest railway stations to Bandhavgarh National Park are Umaria and Katni. Umaria is 35 kilometers (45 minutes) and Katni is 100 kilometers (02 hours) from Bandhavgarh.
| | |
| --- | --- |
| Destination | Distance from Bandhavgarh National Park |
| Jabalpur | 200 km / 04 Hrs Drive |
| Katni | 100 km / 02 Hrs Drive |
| Khajuraho | 250 km / 05 Hrs Drive |
| Nagpur | 490 km / 09 Hrs Drive |
| Umaria | 35 km / 45 Minutes Drive |
| Varanasi | 350 km / 07 Hrs Drive |
| Kanha National Park | 250 km / 05 Hrs Drive |
Th
Jabalpur and Khajuraho airports are the closest to Bandhavgarh National Park. Jabalpur is 200 kilometers (04 hours) and Khajuraho is 250 kilometers (05 hours) from Bandhavgarh.
Also Read: 5 Nearby Places in Bangalore To Visit for Couples
Bandhavgarh Jungle Safari Online Booking (

बांधवगढ़ जंगल सफारी ऑनलाइन बुकिंग)
You may reserve a Bandhavgarh National Park safari by checking for availability on our official website. You might also contact us to make a safari reservation. If you have decided to visit Bandhavgarh National Park, you must arrange a safari in advance. Safari scheduling varies between the summer and winter months. Safari timings, however, are subject to vary at the discretion of Park management. The park is closed in March for Holi and every Wednesday evening (just in the central area) for safari.
Every day, a certain number of vehicles are allowed to enter the forest in various zones. This is done to avoid overloading the forest and harming the region's natural flora and wildlife.
Though if you are planning for Bandhavgarh and want a hassle-free booking you can contact several agents available at Bandhavgarh and for the best safari experience choose the best naturalist and guide.
For a better experience of Bandhavgarh contact:
Types of Jungal Safari in Bandhavgarh (

बांधवगढ़ में सफारी के प्रकार)
The adventure and excitement of Wildlife are best enjoyed when you will do Jungle Safari in Bandhavgarh National Park. In Bandhavgarh National Park, there are primarily two types of safaris –
Jeep Safari: One of the greatest ways to see the enthralling wildness of Bandhavgarh National Park is on a Jeep Safari. The park is open to visitors twice a day, in the morning and in the evening. In most cases, 4WD Gypsies are employed in Jungle Safaris. A maximum of 6 people are allowed to sit in a jeep with a professional Guide. The timings of the morning Safari are determined by the time of sunrise.
Single Jeep Safari – You will be joined by other visitors and a guide on a Single Jeep Safari.
Full Day Jeep Safari – With Full Day Jeep Safari, you may hire the full jeep for yourself, complete with a driver and guide, and your jeep will enter 15-20 minutes before other Safari vehicles. You'll return 15 minutes after the rest of the Safari cars have departed.
Canter Safari – Tourists choose to go on a Wildlife Safari in Canter cars. It has a capacity of 12 visitors. It is open to tourists on a first-come, first-served basis. Canter safaris are permitted in the Khitauli and Magadhi Zones. Because of its low cost, it is always considered the second-best option for a visitor.
Night Safari – This safari is available in the Panpatha (Pachpedi entry point) and Dhamokhar (Parasi entry point) buffer zones of the Bandhavgarh National Park from 7 PM to 9:30 PM in winter and 07:30 to 10:30 in the summer season. It offers tourists an excellent chance to observe the nocturnal animals in their natural surroundings. You could see deer and Royal Bengal tigers if you're lucky. However, because only a limited number of cars are permitted to enter the zone for the night safari, making a reservation in advance is advised. Available on the same day at the ticket counter only
Bandhavgarh Best Zone
There are three main Zones in Bandhavgarh National Park to enjoy the best wildlife Tourism. Every zone has lovely animal views that will enhance your Madhya Pradesh wildlife adventure trip.
Tala Zone: This is one of the most important and well-known wildlife zones in Bandhavgarh National Park. This zone is in charge of designating routes A through E. You'll be surprised to learn that under this zone you may see the majesty of the Royal Bandhavgarh Fort as well as fantastic animal views. It is one of the greatest areas to see Tigers. The greatest places to visit in this zone are Bhitari Hide, Bamania Hill, three cave sites, Vulture Nest, Siddha Baba, Chakradhara Hide, Gopalpur Pond, and Sita Mandap, among others.
Magadhi Zone: Magadhi Zone is another renowned wildlife zone in Bandhavgarh National Park. It is adorned with lovely woods and grasslands. It is around 8 kilometers from Tala village and shares territory with it. Some of the most prominent tourist attractions of this Zone are Sehra Dadra, Sukhi Dam, Baherha, Badbada, Pathiha Camp, Dabhadol Tank, Kerhawah, Dahua Tower, Dinosaur Rock, Mahaman Pond, etc. It is also one of the ideal zones for a thrilling Jungle Safari adventure.
Khitauli Zone: Khitauli is one of the excellent zones in Bandhavgarh National Park for wildlife safaris. It is the western part of the Bandhavgarh Tiger Reserve. If you enjoy bird watching, this is the zone for you. You will also see Blue Bull, Leopard, Sloth Bear, and other animals. Some of the most beautiful tourist attractions to visit here are Charkha Dongri, Nigah Nala, Kumbhi Kacchar, Tedka Munara, Marjadgarh Tower, Garhpuri Dam, etc.
Buffer Zones in Bandhavgarh Tiger Reserve
Panpatha Zone: Panpatha Zone is one of Bandhavgarh National Park's most popular zones. Known for its scenic forest vistas and Jackal, Chital, sambhar, Blue Bull, Bear, Chausingha, and wild dog sightings. Religious tourism sites such as Shesh Shaiya and Laxmi Temple contribute to the tranquillity of this area.
Dhamokhar Zone: Dhamokhar Zone will offer soothing vistas of amazing fauna like Deer, Sambhars, Cheetahs, Bore, and many delightful birds. You will not be disappointed if you visit this zone because it has many amazing tourist spots for photography and natural sightseeing. Some of the most prominent tourist attractions are Kadewaha Madehavah, Kalwahdhaar, Badawar, Mudgudi, Jhaanj, etc.
Bandhavgarh Jungle Safari Timings (बांधवगढ़ सफारी का समय)
| | | | |
| --- | --- | --- | --- |
| Park Safari Timing | 15th October to 15th February | 16th February to 31st March | 1st April to 30th June |
| Morning Shift | 6:30am to 11:30am | 6:00am to11:30am | 5:30 am to 11:30 am |
| Afternoon Shift | 3:00pm to 5:30pm | 3:00pm to 6:00pm | 4:00pm to 7:00pm |
Every Wednesday evening, the park is closed to visitors. Holi is celebrated in India with great pomp and show. On this day the remains are closed for both shifts.
Though Summer is the best time to visit Bandhavgarh National Park due to the high chance of Tiger sightings, If you don't want to travel during the summer, November to March is the best time to schedule a Bandhavgarh Jungle Safari.
When is Bandhavgarh national park closed?
Bandhavgarh National Park is closed for Wildlife Safari from July 1st to September 30th. Though in the last couple of years the safaris in the buffer zone remain open throughout the year.
Is jungle safari safe?
Many people are apprehensive when they hear that safaris are performed in open jeeps, but we promise you that it is highly safe, and there have been no occurrences that indicate otherwise over the years. There is also a very safe distance maintained between your jeep and the animals in the jungle.
Cost of safari in Bandhavgarh
| Nationality | Vehicle | Zone | Week | Weekends |
| --- | --- | --- | --- | --- |
| Indian | Full Jeep | Core | 7500 | 8500 |
| Indian | Single Seat | Core | 1600 | 1800 |
| Indian/Foreigner | Full Jeep | Buffer | 6500 | 6500 |
| Foreign National | Full Jeep | Core | 11000 | 12000 |
| Foreign National | Single Seat | Core | 2000 | 2200 |
NOTE: The single-seat prices may vary according to availability and capacity.
Important details to remember while scheduling Online Jungle Safari Booking in Bandhavgarh National Park:
Because safari booking is subject to availability and is done on a first-come, first-served basis, you must reserve your expedition in advance. To book a safari online, you must do the following:
Government-issued ID proving the tourist's name, age, nationality, and gender.
Each visitor's identification card number (Aadhar card, voter ID, PAN card, driving license, passport, etc.)
Tatkal bookings for the next day open every day at 5 PM in the morning (one day before).
The permit, car, and guide are all charged when you order online. You do not have to pay anything to access the gate.
The admission permit is only valid for the day and time mentioned, and it cannot be transferred.
Because only a limited number of vehicles are permitted to access the park at one time, it is recommended that you purchase your tickets 120 days in advance.
In case of cancellation of safari booking, if the cancellation is done more than 30 days before the excursion date, a 50% fee is refunded. However, if the cancellation is done 0-30 days before the scheduled excursion date, a 100% fee is charged for cancellation.
Any bookings that are canceled or rescheduled within 5 days of the excursion are converted into Tatkal online permits. The Tatkal permit opens 1 day before the excursion at 5 PM, till the safari starts time.
If a safari booking is marked as 'W' (waiting), it is only verified once the waiting list is empty. If the permit is not approved within 5 days before your booked excursion, it is immediately canceled and the fee is reimbursed to you.
What to bring with you on your safari in Bandhavgarh National Park:
To have a wonderful experience and a pleasant safari in Bandhavgarh National Park, you must obey the park's laws. To guarantee that your time in the forest is wonderfully documented, bring a high-quality camera and excellent binoculars to watch the wildlife up close. Other items to bring on your safari are:
The photo identity card is used to book your online safari seats. You will be unable to participate in the safari unless you provide verification of your identification. Also, when on safari, keep the entrance permission for your vehicle or your safari booking receipt with you.
A hat or cap to keep you cool in the hot summer sun. If you are going on the safari during the heat, bring your sunglasses and a bottle of water with you. This can help you stay hydrated and avoid sunstroke.
If you go on a safari during the winter, dress warmly because the temperature in the forest is lower than it is in the city.
Wearing brightly colored clothing on safari might draw unwanted attention from the wildlife. It is recommended that you wear earthy tones such as brown, grey, and so on so that you may easily fit in with your surroundings.
Disturbing wildlife by talking loudly, playing loud music, or throwing waste in the jungle is not allowed and therefore care should be taken to avoid doing such things.
Chances of tiger sighting in Bandhavgarh
The density of tigers in Bandhavgarh National Park is the highest, so, the chances of witnessing one increase severalfold.
Bandhavgarh vs Kanha
Bandhavgarh is better than Kanha. Though the size is smaller, there is a high chance of sighting the tiger here, because the number of tigers in Bandhavgarh is more than in Kanha, that too in a comparatively smaller zone.